Stackable Page Builder Review: Get LTD at Lowest Price!
Stackable Website Builder is the ultimate all-in-one solution for people who want to create a stunning website quickly, easily, and efficiently. With Stackable, you can have the confidence to construct fast-loading websites within no time, as it provides an outstanding page-building experience for the WordPress Block Editor.
It comes with an extensive library of UI Kits, design templates, wireframes, custom lightweight blocks, and global settings.
Moreover, it features impressive customization settings and dynamic content capabilities which makes website designing much faster. Trusted by 160K+ websites, Stackable is your go-to choice for future-proofing your workflow.
Stackable Key Features
Design for Smaller Screens
Dynamic Content Capabilities
Stackable is already trusted by 160,000+ websites worldwide.

saaspoints
Benefits of Stackable
Boosts productivity and saves time
Improve website design process
Create dynamic, user-engaging sites
Easy to use, intuitive interface
Power, customization, and scalability
Professional Premium templates
Compatible with Third-party Plugins and Services
Pros and Cons Of Stackable
Flexible and powerful design options

Site-wide dynamic content capabilities

Conditional display controls

Advanced responsive design settings

LARGE library of UI elements and templates
UI kits have limited flexibility

Limited control over post loop designs

Experienced users may find some features lacking
How Much Does Stackable Cost?
Stackable Lifetime Deal Price
Stackable Regular Cost

How Does Stackable Work?
Step 1: Get started by signing up for Stackable and connecting your WordPress website.
Step 2: Explore the large library of UI Kits, design templates, and wireframes.
Step 3: Customize the blocks with options for motion effects, hover effects, dynamic content, and more.
Step 4: Add your content and customize it using the advanced responsive design settings.
Step 5: Preview your website and make it live once it's ready.
Why You Should Get Stackable?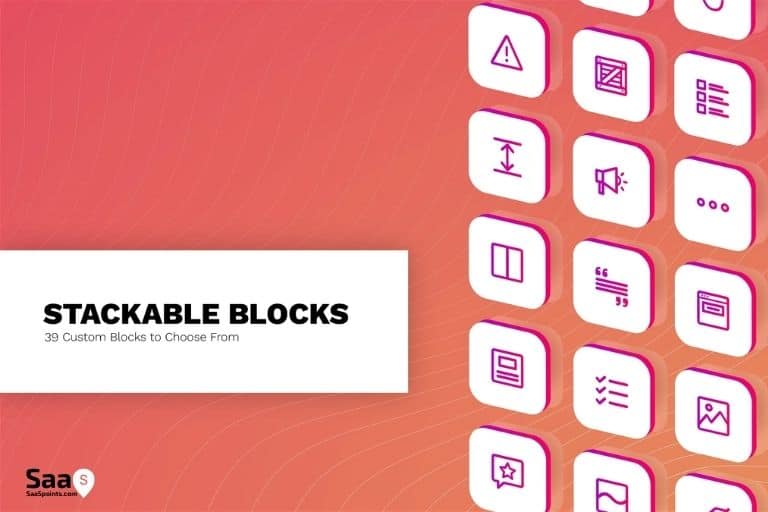 If you are looking for a way to streamline your design workflow and create stunning websites quickly and effectively, then Stackable is a great choice.
With its library of UI Kits, templates, and wireframes; along with its dynamic content capabilities, Stackable is an all-in-one solution that makes web design a breeze.
Stackable Features Details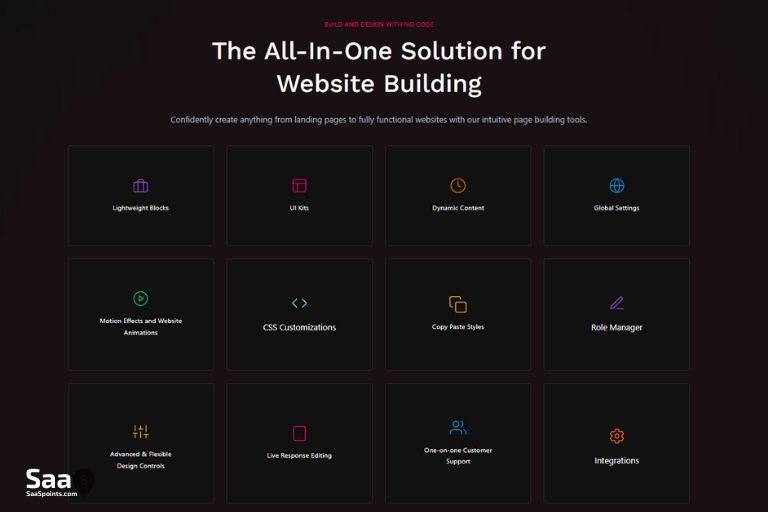 1. 400+ Ready-Made Designs & UI Kits:
With Stackable, you get access to an expansive library of 400+ website designs and premade UI Kits, so you can quickly and easily get started on your website project. These designs are perfect for anyone who needs a head start on building a website – without having to start from scratch.
2. 39 Flexible Custom Gutenberg Blocks:
Stackable comes with 39 fully customizable Gutenberg blocks, so you can mix and match any web element and bring your website to life. Whether you want to add a text block, a call-to-action button, a feature block, an image block, a testimonial box, or even a contact form, you can do it easily using Stackable's drag-and-drop feature.
3. 44+ Wireframes:
Stackable includes 44+ wireframes that you can use to jump-start your web design process. That way, you don't have to spend hours manually building your website and can instead rely on pre-made wireframes that help you hit the ground running.
4. Page Builder-Like Design Options:
Stackable gives you page builder-like design options, allowing you to create beautiful websites and design any way you want. Whether it's customizing containers, columns, sections, blocks, text, menus, boxes, backgrounds, colors, fonts, or anything else, you can do it easily with Stackable.
5. Dynamic Content Functionalities:
With Stackable, you can easily add dynamic content functionalities to your website and make it look & sound authentically yours. You can also use custom content as part of your design – such as lists, video or image galleries, audio files, maps, and more.
6. Motion & Hover Effects:
Stackable lets you customize the look and feel of your website by easily adding motion and hover effects, so you can make it more interesting and eye-catching. You can even customize each element's animation speed and duration to give your website the perfect feel.
7. Agency Tools:
User Role Manager & CSS Customizer: Stackable comes with built-in agency tools, so you can quickly and easily manage the user roles of your website and have full control over the CSS code. This makes it easy for agencies to collaborate with multiple clients or a development team and make all the necessary edits without any hassle.
8. Global Settings:
Create global settings for all the design elements that you use in your website. This way, you don't have to set up every element from scratch every time, and instead can quickly and conveniently apply the same design settings to multiple elements. This feature is perfect for larger projects, since it helps you save time and energy.
9. Live Responsive Editing:
Preview your website in mobile, tablet, and desktop view, right from within the Gutenberg editor. With the live responsive editing, you can easily make all the necessary edits in real-time and make sure that any changes you make to your website look perfectly across all device sizes.
10. Ultra-Fast Page Speed:
With Stackable, your website pages will load faster and become more SEO-friendly. Thanks to the ultra-fast page speed and advanced optimization settings, you can now make sure that your website reaches the widest possible userbase, without compromising on design quality.
Conclusion:
Stackable is the perfect all-in-one solution for designing stunning websites with the WordPress Block Editor. With features like 400+ ready made designs & UI Kits, 39 flexible custom Gutenberg Blocks, 44+ wireframes, page builder-like design options, dynamic content functionalities, motion and hover effects, and agency tools, you can be confident that your website design is efficient, effective, and future-proof.
FAQ
What is Stackable?
Stackable is a website builder for the WordPress Block Editor that allows users to design faster, more efficient, and more effective websites.
Are there any special features included with Stackable?
Yes! Stackable includes over 400 ready-made designs & UI Kits, 39 custom Gutenberg Blocks, motion and hover effects, custom lightweight blocks, global settings and more.
What platforms is Stackable available on?
Stackable is currently only available for the WordPress platform.
Does Stackable include integration with third-party plugins?
Yes, Stackable is integrated with third-party plugins such as Toolset, JetEngine, ACF, Metabox and more.
Does Stackable provide dynamic content capabilities?
Yes, Stackable includes dynamic content capabilities such as dynamic sources, conditional displays, custom post loops, and dynamic fields.
Resources