OCOYA LTD Reviews: All-in-one Content Marketing Tool
With so many social media marketing tools out there, it can be hard to know where to start.
OCOYA is an all-in-one content marketing tool that helps you produce, schedule, and measure your social media posts. It also has a smart audience retargeting system which makes it easy for marketers who are on a budget!
Find out more in this OCOYA Review!
What Are The Benefits Of Using OCOYA?
Content marketing is the most effective way to engage your audience and generate leads. Ocoya is a true all-in-one content marketing tool that allows you to create, write, schedule and monitor your social media content.
Key Benefits of OCOYA
Busting your content marketing mold is difficult. To keep your audience engaged and your search engine rankings high, you'll need to generate, distribute, and optimize content on a regular basis.
According to Statista As of Q1 2020, 420 billion people are active on social media.
Ocoya is here to assist you with all of these jobs so you may devote more time on what matters most – telling great stories that connect with your audience.
The Ocoya Developer claims that the Ocoya LTD DIAMOND Plan is worth more than $1,200.
Main Features of Ocoya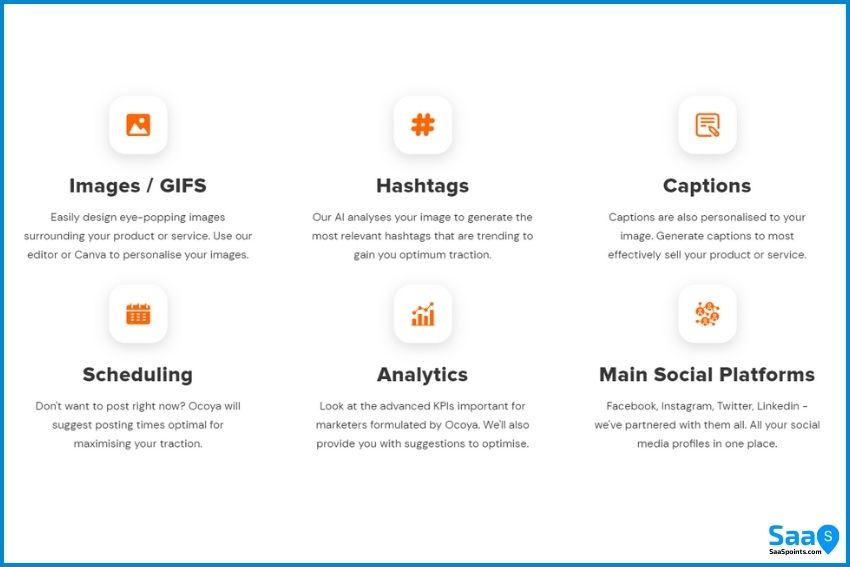 Image/ Gips
Hashtags
Captions
Scheduling
Analytics
Main Social Platforms
Marketing funnel KPIs
Ocoya Supported Platforms
All of your favorite services in one spot
Facebook
Instagram
Twitter
LinkedIn
Shopify
Over Next 6-12 Month Road Maps Include
Pinterest
TikTok
Etsy integrations
Integration with Popular sites
Canva
Buffer
Hootsuite
Unsplash
Pexels
Pixabay
Giphy
How Much Does Ocoya Cost?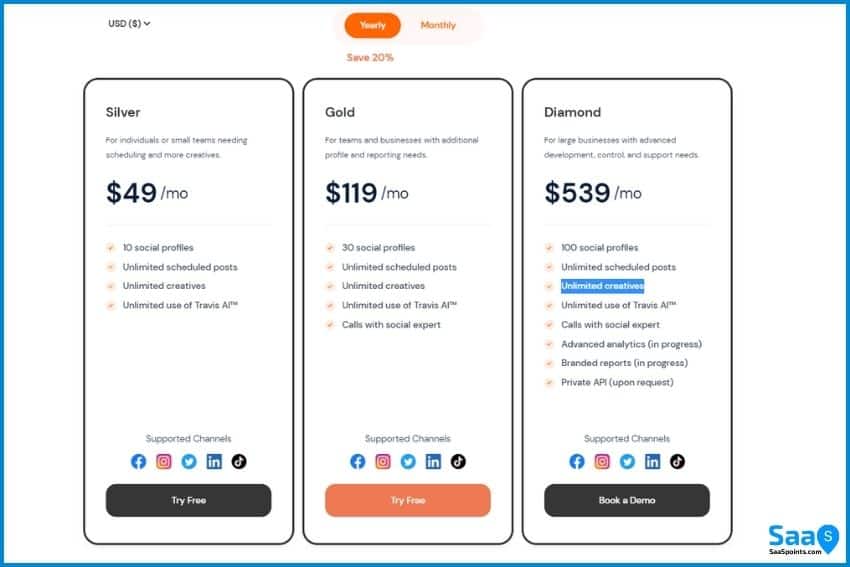 Ocoya comes with 3 plans. Silver for $49/month, Gold for 119/month, Diamond for $539/month. They offer a 7-day money-back guarantee! However if you take the current lifetime deal from appsumo or Dealify, you can save up to $1200 USD !!
Ocoya Appsumo Lifetime Deal
LifeTime Deal is perfect for the content marketers. The Developer claims that the lifetime deal is worth more than $1200!! Grab this chance while it lasts!
Ocoya Appsumo Lifetime Deal Come with
Lifetime access to Ocoya
All future updates to the Ocoya Plan.
Unlimited use of our editor + 10,000 templates
Generate unlimited marketing copy with Travis AI
Schedule unlimited posts to your social platforms
Monitor your performance with analytics
Integrate Canva, Shopify, Hootsuite and Buffer
Stack 2 codes: 40 social profiles & all Gold Plan updates
Stack 3 codes: 60 social profiles & all Diamond Plan updates
Stack 20 codes: 400 social profiles & all Platinum Plan updates
One Time Purchase of $59 $600.00
20 social profiles
4 team members
4 workspaces
What Will Be The Future Update of Ocoya?
According to their plan, this appears to be very promising. This is easy and great for marketers, business owners and entrepreneurs.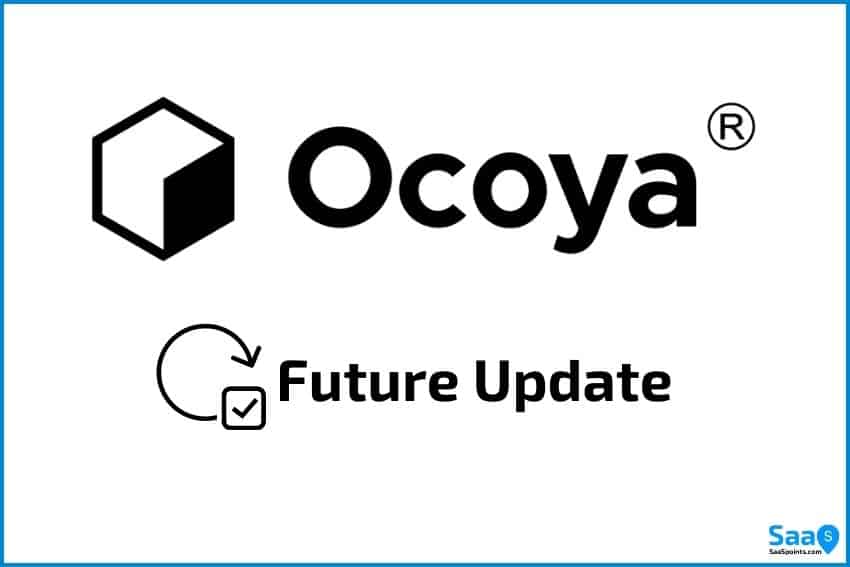 In Progress
Text-only posts
Private API For (Platinum+ Plans)
Campaign planner For (Diamond+ Plans)
Schedule preview and comments with external clients
Pinterest, TikTok & Etsy integrations (All Plans)
They've Made A To-Do List ( Soon will be added)
Hashtag Generator
CSV Bulk upload
Workspaces Option for
Multi-user interface
Branded reports (Diamond+ Plans)
Caption editor ( character counter + emojis )
More creatives' sizes For Social Media Post
Template Share Option as "View" or "Edit"
Pixel-perfect & on-brand ads
Google My Business integration
Final Thoughts
If you're a content marketer who struggles to keep up with the fast-paced social media marketing landscape, Then Ocoya is something that you should be checking out.
With this all-in-one platform, it's easy for marketers on a budget to stay competitive in their niche and measure ROI.
One of the main benefits of using Ocoya is its smart audience retargeting system which makes it simple for businesses to advertise their products or services without spending more money than they have!
Get your lifetime deal from Appsumo today and save up to $1200 USD.
Ocoya – Step Up Your Content Marketing
FAQ's
Can I schedule my posts on LinkedIn?
Yes, both for Personal and Company accounts.
Does Ocoya allow for us to add team members?
Yes, multi-user will be out there to use for anyone on ANY plan!
Is the AI-backed up GPT-3, and do you plan to update it as GPT-4 launches?
Yes, it's a mix between GPT-3 and our in-house machine learning. We also do computer vision for scanning images – would say pretty advanced.
Do you have a monthly content planner inbuilt?
It's called "My Campaigns" – it's already integrated but will get launched within the next 1- 2 weeks for Diamond plan users.
Do you have a custom logo watermarking feature on the generated contents?
We have a fully-fetched editor in-house so you can generate any watermarks you want. You can also add them to your Brand Kit and re-use it on all content
What do you mean by white-labeling solution in your roadmap?
White-labelling workspaces for business owners (by adding their logo, inviting their customers etc) is the aim.
Resources
Ocoya Official YouTube Channel
Ocoya LTD in Appsumo
Please do not hesitate to contact us if you have any queries. Simply join the SaaS Points Community Facebook Group and leave a remark. We'd be delighted to assist you.
Direct message us at @SaaSPoints Or Mail Contact Us !