WriterZen Reviews 2022:Ultimate Solution For Content Writers
Your content is the lifeblood of your business, as it's what keeps people coming back. It's no secret that creating blog content can be time-consuming. It also takes skill, patience, and creativity to create something worth reading.
WriterZen is an online tool that makes it easy for you from keyword research, clustering to content outline!
What Is WriterZen?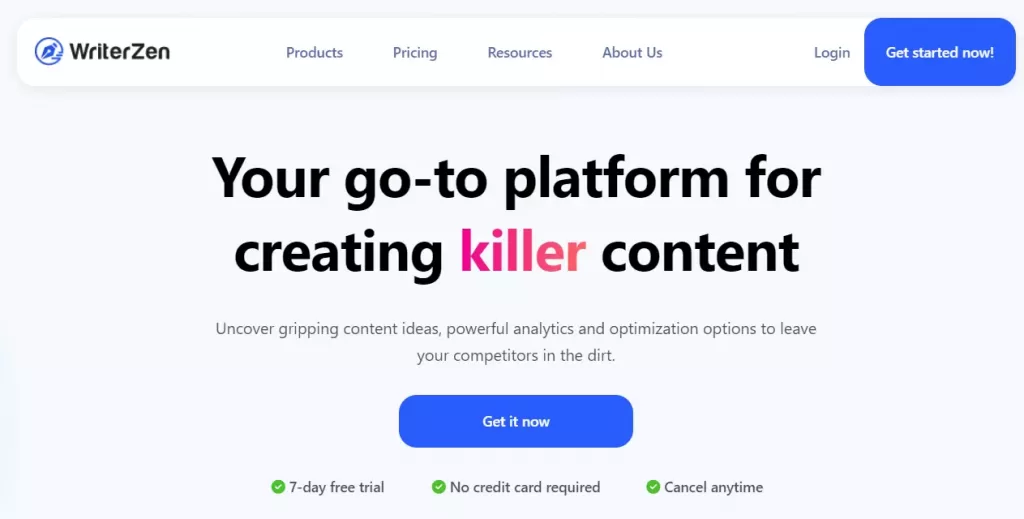 WriterZen is a content creation tool that helps you find the right keywords, analyze your competitor's, Cluster your keywords, KGR, create content outlines and write your blog posts.
Key Benefits of WriterZen
It's Like Having An Entire Team Of Content Creators At The Tip Of Your Fingers, Allowing You To Focus On Other Parts Of Your Business!

Nazmul Hasan
How much does WriterZen cost?
WriterZen comes with three packages, each of which has a different price. Basic is $39/m, Standard is $59/m, and Advanced is $99/m. If you opt for yearly subscriptions, you may save 30% off the following prices.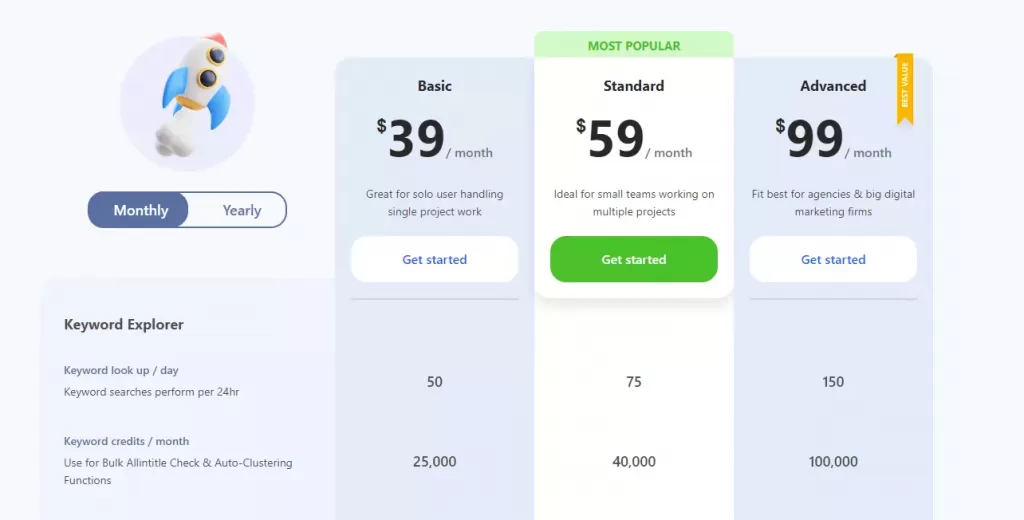 They recently added a one-time credits option to their system, which you can use to increase your credit. You can also top up one-time credits.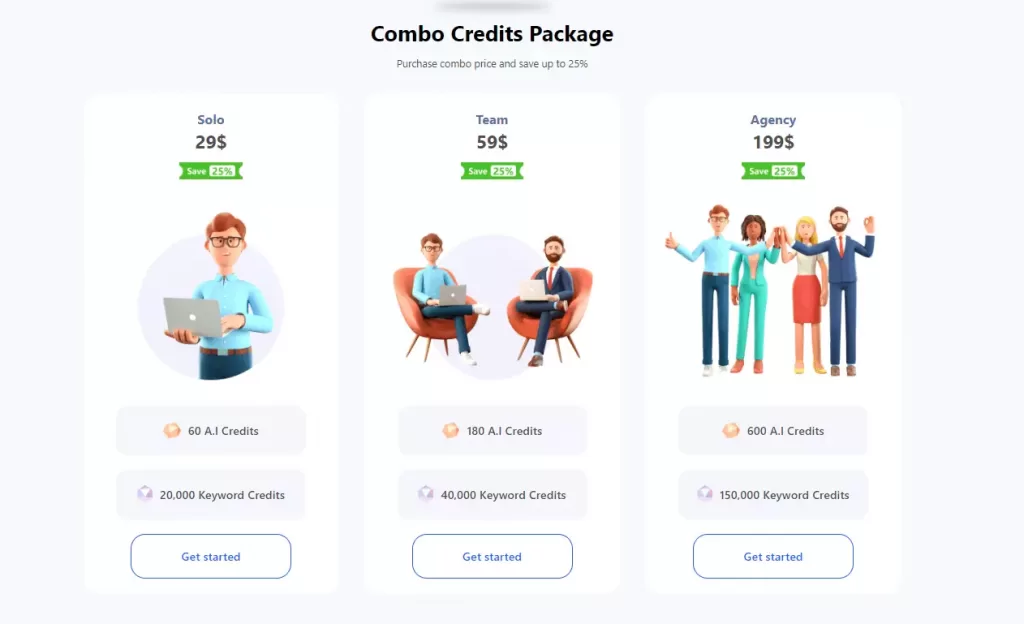 If you want to connect your app with Google NLP, you must buy AI credits. Utilize AI credits, either top up as credits or purchase them as part of a combo package that also includes keyword credits.
Here is the table to understand WriterZen Pricing Structure Easily
| | | | |
| --- | --- | --- | --- |
| Credit Limit | Basic | Standard | Advancne |
| | $39/m | $59/m | 99/m |
| Keyword Credit /month | 25,000 | 40,000 | 100,000 |
| Keyword look up / day | 50 | 75 | 150 |
| Content briefs / month | 50 | 70 | 150 |
| A.I credits / month | 15 | 30 | 100 |
| Topic look up / day | 50 | 75 | 150 |
| Keywords per import | 3,000 | 7,000 | 12,000 |
| Plagiarism Checker/day | 25,000 w | 40,000 w | 1,00,000 w |
| Plagiarism Check Limit /Per | 3,000 w | 7,000 w | 12,000 w |
| Keyword list | 20 | 50 | 100 |
WriterZen Pricing Structure
For all the package you will get
SERPs overview Ahrefs data
Insights segmentation
Export function
Golden Keyword Filtering
Sales per keyword simulation (ESKP)
Sharable links to freelancer
Import content from URL
Competitors headlines generators
Report sharable links
Import content from multiple sources
Writerzen Lifetime Deal: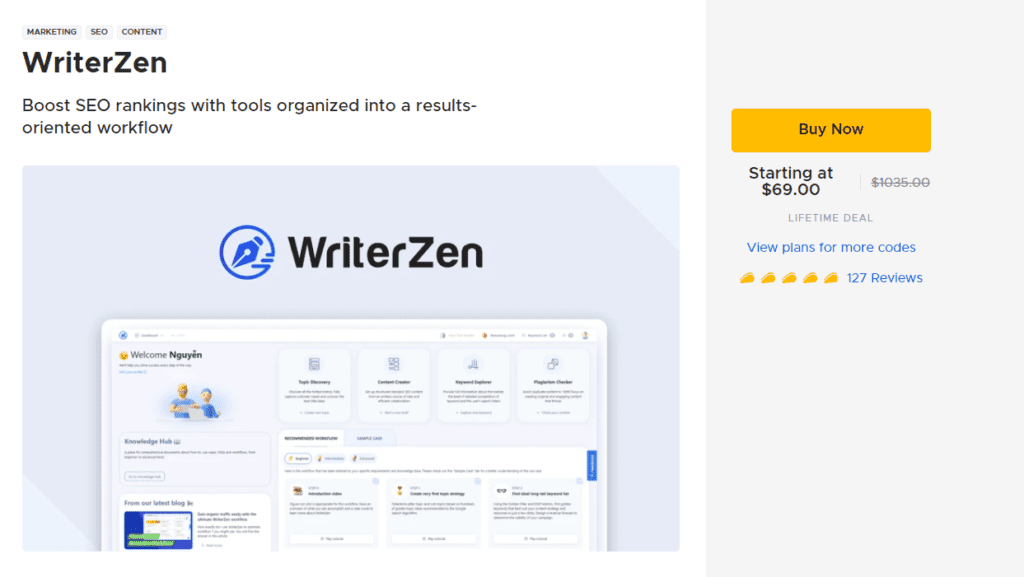 Grab the lifetime deals until it runs out, you can save 91% from lifetime deals. Currently, WriterZen offers a Lifetime Subscription at Appsumo.
What You'll Get from this LTD ?
Keyword lookup: 75 keywords/day
Keywords Credits : 40,000 Keywords/month
Topic lookup: 75 topics/day
Content brief: 70 articles/month
Keyword import: 7,000 keywords/time
Plagiarism Checker: 40,000 words/day with 7,000 words per time check
Save your keywords to your personal keyword database: 50 keywords
---
WriterZen Features Explain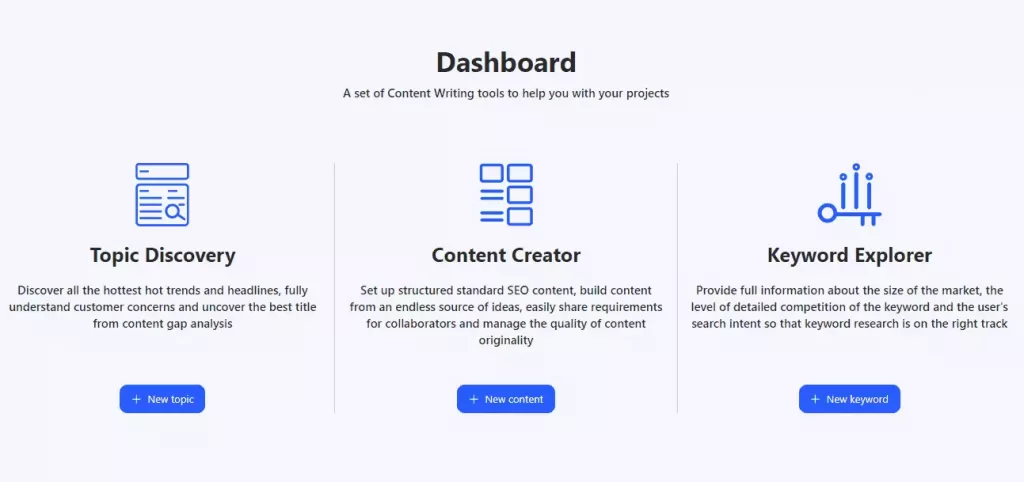 WriterZen Topic Discovery
Topic discovery is a tool in the SEO module. The topic you choose will be based on your keyword and relevancy score. This is where you come up with good topics if you have trouble coming up with ideas.
Topic discovery does this by finding topics based on your keyword or niche in minutes, and it creates content clusters around these topics.
Topic discovery can show you many topics to use in your next blog post, and it is one of the best ways to come up with ideas when you are blocked.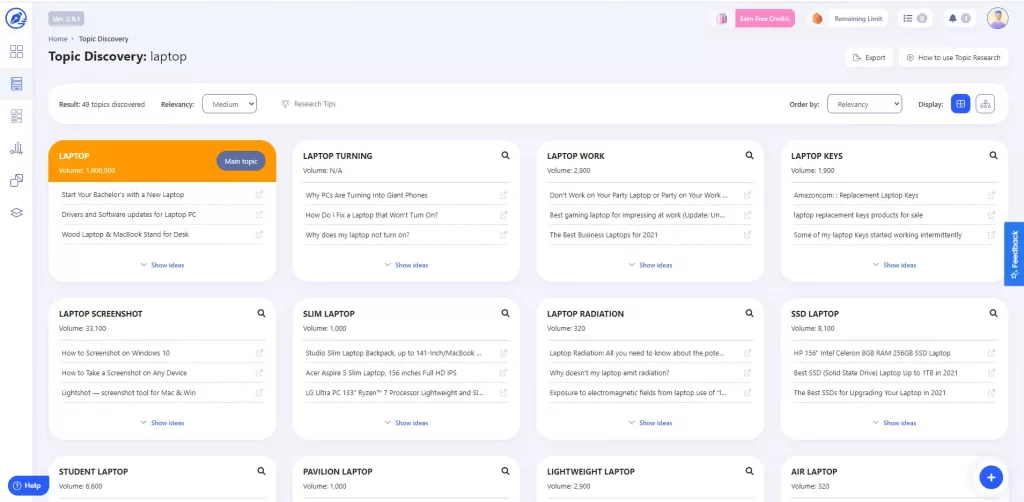 What Can You Do in WriterZen Topic Discovery?
Discover Topic in details views
Sort By Relevance – Closely, Medium, Widely
Order by – Relevance, Search Volume
Display by Mind-map or Group
Export Full Keyword List
Headlines Ideas
Related Google Searches
Google Suggestion Insights
This implies that you may research your topic in detail, so you won't have to guess what it is. You can do niche research inside the Writerzen topic discovery even without going to other tabs!
---
WriterZen Keyword Explorer
Search Your Main or Seed keywords by Keyword or Domain. You Can Set Different location and language
What Can You Do in WriterZen Keyword Explorer?
Keyword Search
Get Detail Keyword Data
Full Keyword Insights
Keyword Cluster
Keyword Search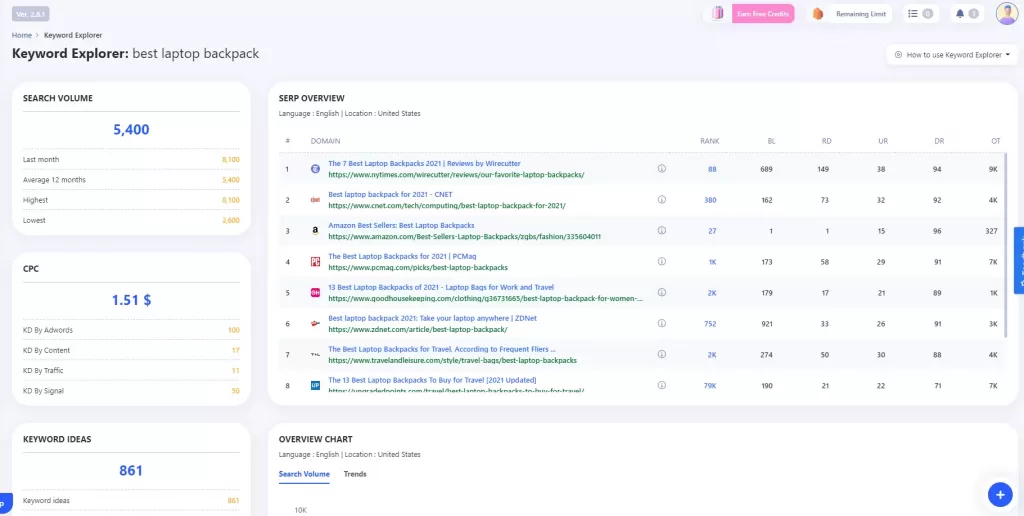 Real Search Volume
Keyword Difficulty
CPC Data
Serp Overview ( Ahrefs Data )
Google Trends
This tool will provide you with insights on how many searches are made in Google, what is the difficulty for ranking and even who else uses your keywords!
This can be very helpful when doing competitive research on your topic or keyword. You can see why other people use these terms so that you don't have to reinvent the wheel every time.
Keyword Data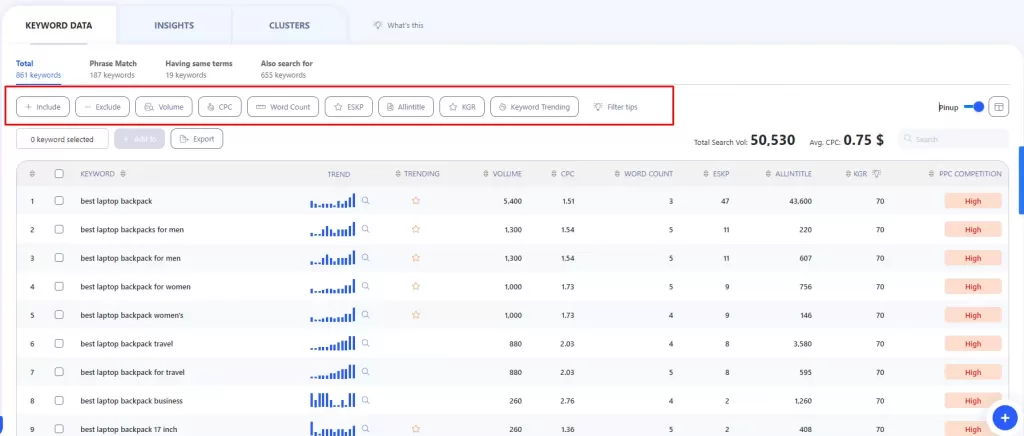 Total Keywords
Phrase Match
Having Same terms
Also Search For
Include and Exclude option to find out Long tail keywords
This tool can give you a lot of information about your keyword. You will get the search volume for this search term, how difficult it is to rank and also see who else uses that particular phrase.
Keyword include, exclude, and option to particularly help you find out the low competitive keywords. In this way, you will be able to come up with better content ideas that easily rank!
Keyword Insights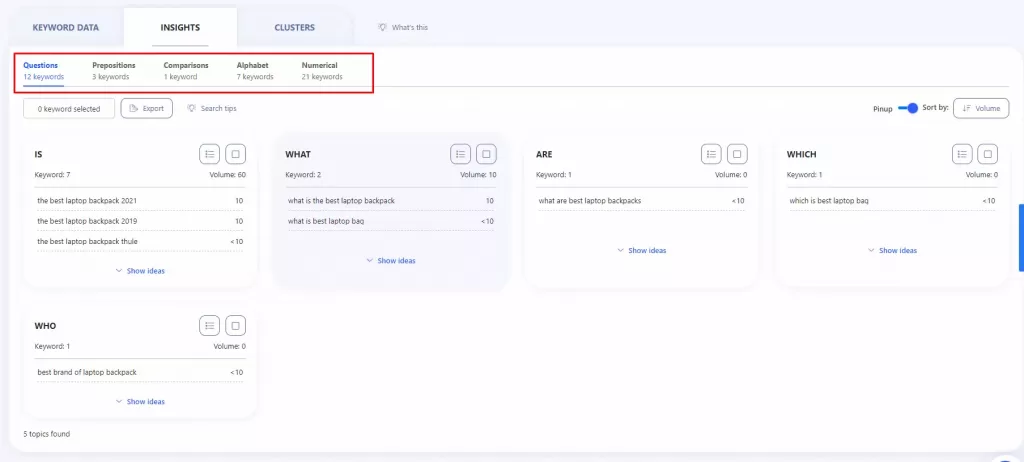 Question
Preposition
Alphabet
Numerical
The Keyword Insights tool is also great for coming up with titles and headlines. For example, if you are writing about "How to write blog posts", this keyword will bring up other related keywords like "blog post template". It can help guide your next steps in creating content that people love! !
Keyword Cluster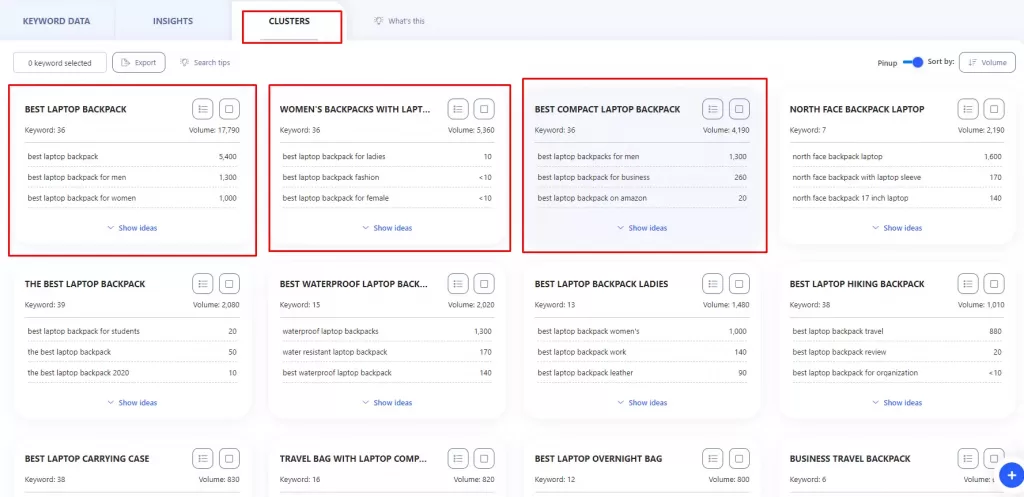 Keyword Cluster 99% accurate
Sort by volume
Details view by trends, Volume , CPC, Word Count, KGR , PPC
Keyword cluster is one of the most useful tools for SEO content writers. It can help you come up with titles and headlines based on your keyword or topic that you are writing about. Keyword clusters will show how closely related these terms are to each other by grouping them together.
---
WriterZen All In Title and KGR
The All in Title tool tells us how many websites use the keywords we give it. The KGR ratio is the number of All in Title and Google Search Volume.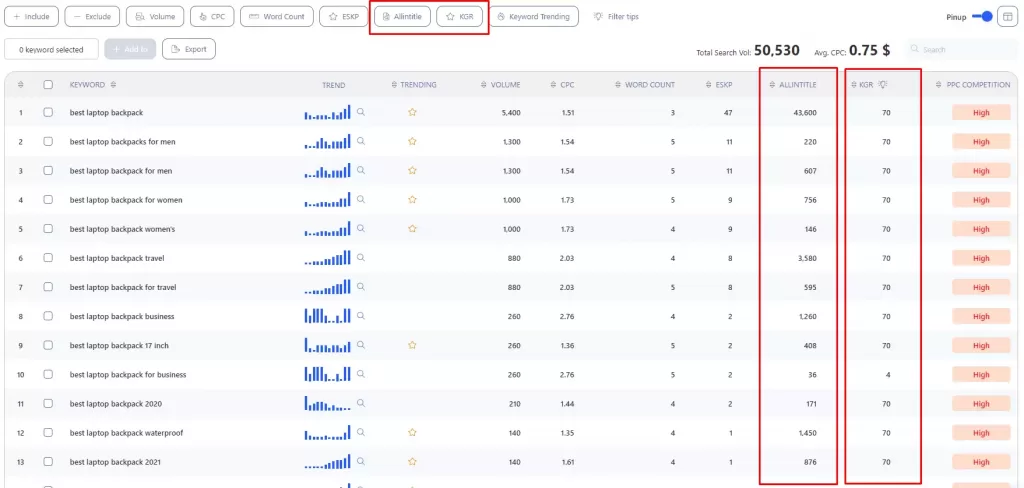 The lower the KGR, the more people will search for that keyword and we have less competition with other websites. Any KGR below 25 is good to use, with few competitors using that same keyword.
The most significant feature of WriterZen is its cluster system and KGR, which saves you a lots of time.
To find keywords with a lot of people searching for them, you can use the KGR ratio. This means finding keywords that are less popular among other websites. Good keywords for beginners are ones that have a high search volume and few All in title numbers when compared to other websites.
---
Content Creator of WriterZen
What Can You Do in WriterZen Topic Discovery?
You can create unlimited projects
Inside project you can create content
Content Outline
Keywords to include
Content Writing
And Google NLP integration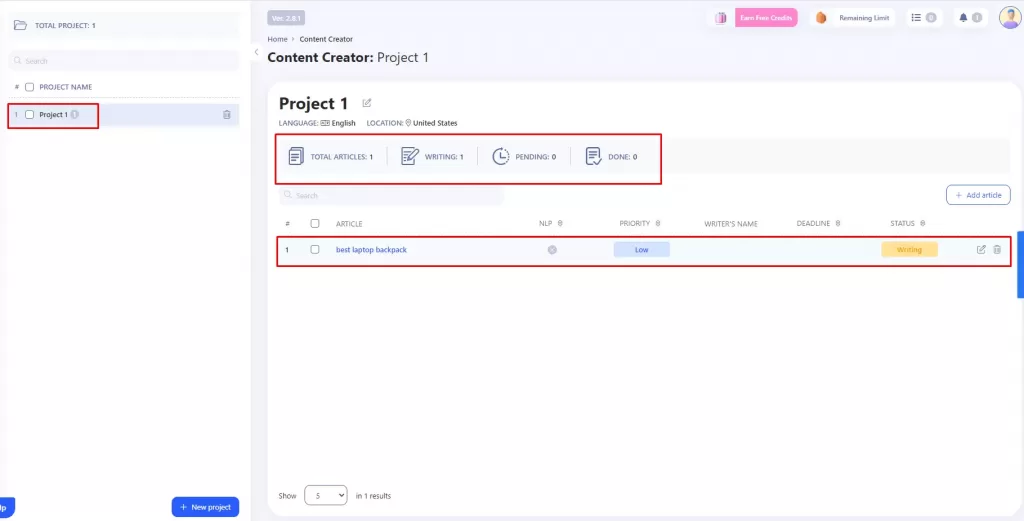 WriterZen is a way to help you write a blog post and can also be used for other things. One of the main features it offers is collaboration, which means you can keep track of different parts of your next big project. You can use this tool to create, review, and publish your work.
There are many suggestions to help you create content. You get keyword suggestions based on an algorithm that looks at the top 20 levels of URLs. There are sentence suggestions, image suggestions, and paragraph suggestions too.
---
WriterZen Plagiarism Checker
WriterZen offers a Plagiarism Checker Tool. This is important because few other SEO tools offer this feature.
We Compare these tools with the copyscape premium option, we are amazed that WriterZen can compete even with Copyscape. It found so many matches in our test content, and it is quite affordable!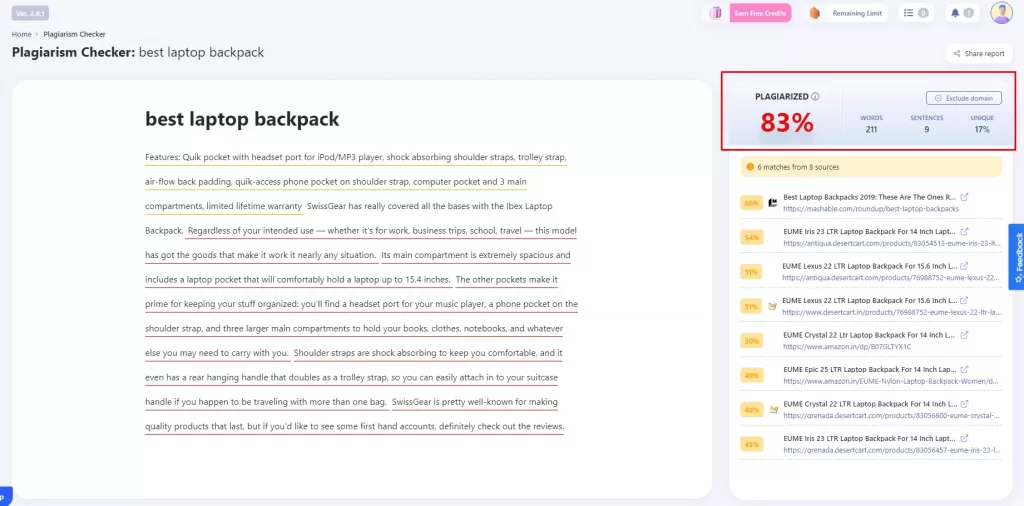 This tool will check your content for plagiarism. This is essential to get rid of any duplicate contents that you might have accidentally written down, or gotten from another website.
---
What is the limit for the Keyword explorer?'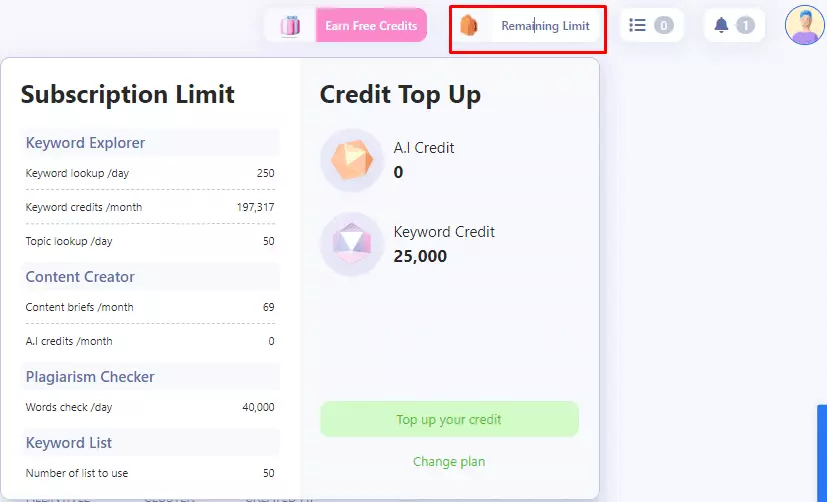 The daily limit for keyword searches only restricts you from running more than 250 seeds in a 24-hour period (or 1000 in the case of a Platinum plan). However, this is irrespective of an Allintitle search/filter applied, for which the limit is 1M per month on the Platinum plan.
How do you compare with Surferseo, Frase, MarketMuse?
WriterZen stands out from its competitors by offering you an integrated and advanced keyword research tool for your SEO content workflow. Now, you'll be able to research, select, gain insight from keyword lists and cluster them into content groups with optimized ranking.
Final Verdict:
WriterZen is a set of tools that help people find the best data. It has all the features from ahref and semrush but at a lower price.
It has all of the features that they need, like competitive analysis and optimization. It is also growing every day with new features coming in the future. If you are trying to create better content, you should try WriterZen!
FAQ's
Do WriterZen you have a free trial?
Yes, you may test their service for seven days.
How accurate are WriterZen results?
We collect the data directly from the Google keyword planner and Google suggestion database, so the results you receive are highly relevant for your SEO projects.
Does this LTD get all future updates of any plan?
You can get updates to any future products. People who joined the AppSumo site early have already gotten three upgrades.
What's the difference for a person using WP + rank match (free) vs. your tool?
The big difference between our tool and other ones in the market is the intergration of our own advanced keyword research tool with unique features like Golden keywords detection and auto clustering keyword groups.
Resource For WriterZen User
Please do not hesitate to contact us if you have any queries. Simply join the SaaS Points Community Facebook Group and leave a remark. We'd be delighted to assist you.
Direct message us at @SaaSPoints Or Mail Contact Us !