Hexomatic Lifetime Deal Review: Best Work Automation Tool
Hexomatic is A comprehensive work automation platform that lets you extract data from websites via scraper recipes and use ready-made automations that easily scale tasks.
You have a lot of ideas and plans, but there are only so many hours in the day, resources to do things or ways to spend your time.
If you could leverage the power of AI, and the wisdom of a large crowd through a simple point and click automation platform. You can build the perfect workflows for your team and start doing more high value work.
Hexomatic is the best Alternative to: Texau, RITLA, Phantom Buster, Webscraper.io or Apify.
Key Features Of Hexomatic
---
Hexomatic Appsumo Lifetime Deal
Hexomatic currently run lifetime deal on appsumo, choose any plan according to your business size.
4,500 automation credits per month
10 simultaneous running workflows
Advanced integrations
Create your own automation recipes
Data Centre IP rotation
Lifetime Gold Package (Normally $99/Mo) Offered For $196 One Time Purchase
All Gold Plan Features
10,000 automation credits per month
Unlimited simultaneous running workflows
API
Normal Hexomatic Pricing Plans
Premium credit add-on : $4.99/monthly
DeepL & Google Translate
Google & Google Maps data
Email enrichment
Traffic analysis
Residential proxies
Amazon Data
Crowdsourced tasks
SEO backlink data
---
How Can You Use Hexomatic? Why Hexomatic?
Hexomatic is an intuitive application that gives you all of the tools you need to extract your data from the Internet without having to use complex code.
For a hassle-free data search experience, Hexomatic runs from the cloud and has the data center rotation included in all plans. Get a scraping recipe builder that makes it easy to scrape with a simple click! Such as:
Scrape products / directories
Prospects / listings
Can Do Permutation and Combination on all the available automations
Unique solution for your workflow
Automated new video alerts
Automated Outreaching
Hexomatic was built for automation enthusiasts. Hexomatic provides an intuitive interface for creating automation recipes.
You can create a scraper recipe in seconds or use prebuilt automations to start working immediately. Hexomatic has a unique feature that lets you scale your automation.
Scrape Data from the internet
Automate workflows
Scale tasks easily
Hexomatic Use Case: Features Explain
You'll get a list of the best scraping recipes and automations that can be combined together to automate your most time-consuming tasks. This lets you focus on running those tasks, not spending hours manually crafting your own scraping recipes.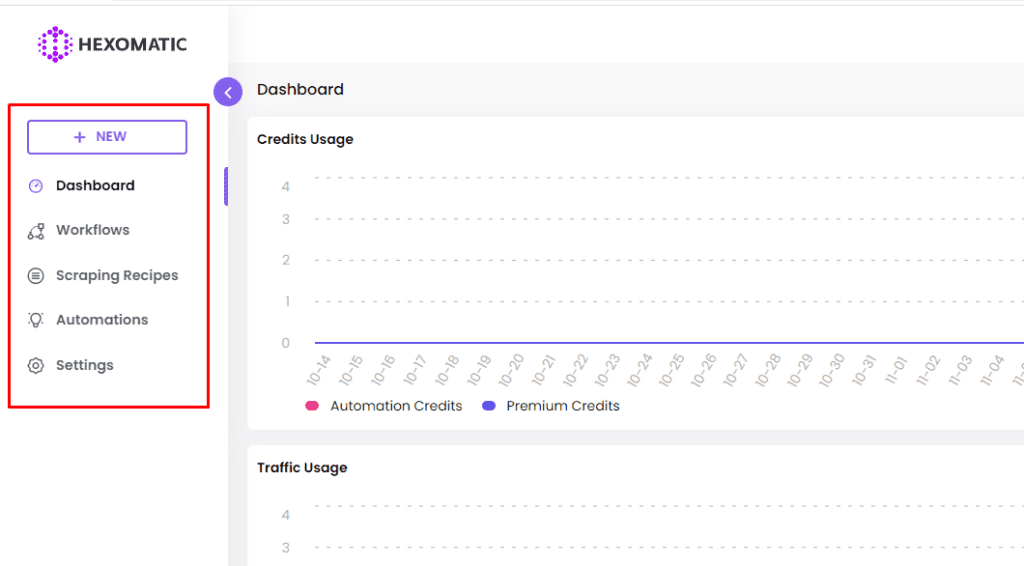 Here are some example:
Use Scraping Recipe to Analyze and Info listing from any website
Find Leads From Google Map with few click
Monitor Amazon sellers
Easy Backlink SEO Outreach
Create Bulk Screenshot
SEO Analysis at high Scale
Convert image to scale
Here is an example of how this thing works. Info Collected from hexomatic official site.
Scrape And Analyze Listings From Any Website
Scraping recipe: Scrape data from any website capturing product names, descriptions, prices, images etc.
SEO meta tags: Extract SEO meta title and meta descriptions
Get word count: Word count for each page.

How To Find Find 100's Of Lead In A Few Clicks Using Google Maps?
Step 1: Find Leads from google map
Step 2: Find Email address
Step 3: List all Social Media Profile
Step 4: Analyze data of each website
How To Automate Backlink Outreach Workflow With Hexomatic?
Step 1: Google Search: Find Relevant website for Automation
Step 2: Scrape Email Info
Step 3: Scrape Social Info
Step 4: Analyze Traffic
Step 5: Finalize Outreach
---
Hexomatic Use Case: Growth hacking
Hexomatic For Ecommerce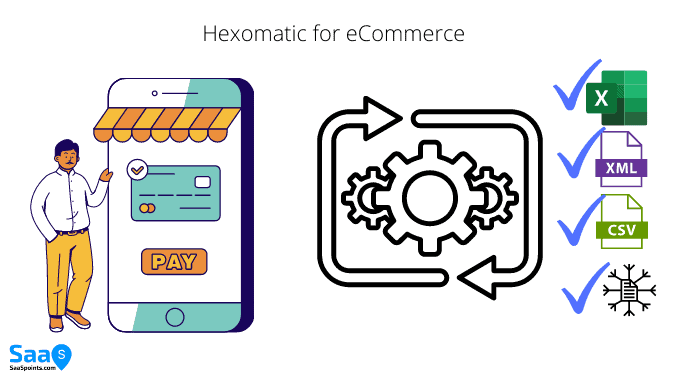 The most important thing for you is to find the right tools that work for you, and Hexomatic is one of them. You'll get everything you need to convert your site into a spreadsheet or API and take advantage of all those data points you've been gathering from your site.
Monitor competitor pricing
Find product descriptions and images
Collect customer reviews from competitors
Hexomatic For Sales Teams
Targeted leads are the fuel for your rocket ship if you sell to other businesses. On autopilot, find relevant prospects for just about every industry or niche.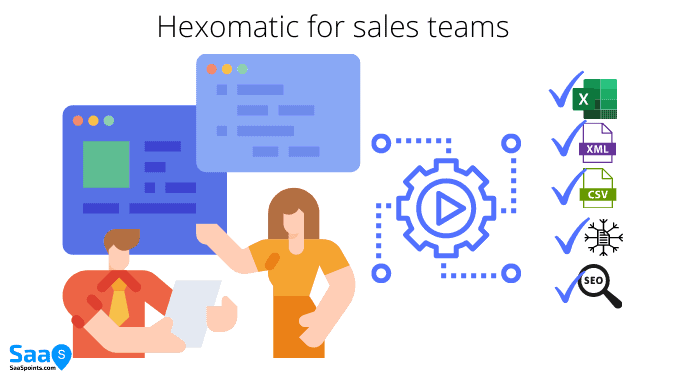 Find Niche By Google Search
Scrape directories
scraping conference attendees & sponsors
By Using Google Maps Find local businesses
Learn more of Hexomatic use-case
---
Hexomatic Automation Recipe List
Premium Automation
AI Audio transcription: Automatically convert audio files into text
AI Optical character recognition: Extract texts from images via Google Vision AI
AI Text to speech: Text to speech conversion via Google Text-to-Speech
AI image labeling: Extract image labels via Google Vision AI
AI image safety: Image safety checks via Google Vision AI
AI logo detection: Discover product logos within an image via Google Vision AI
AI image safety: Image safety checks via Google Vision AI
AI logo detection: Discover product logos within an image via Google Vision AI
Amazon product search: Product searches on Amazon
Amazon seller finder: Amazon searches and get information about the sellers
Baidu search: Baidu searches and get SERP results
Bing search: Bing searches and get SERP data
DeepL Translate: Advanced machine translation via DeepL
Email discovery: Discover email addresses found on the website
Google Maps: Google Maps searches and get SERP results
Google News: Google News searches and get SERP results
Google Search: Google searches and get SERP data
Google Translate: Translation via Google Translate
SEO backlink explorer: Find pages linking to any domain or a webpage
SEO referring domains: Find referring domains linking to any domain
Yahoo search: Yahoo searches and get SERP results
Built in AUtomations
Accessibility audit: Check any page compliance with accessibility standards
Crawler: Crawl any website extracting pages,
Cryptocurrency converter
Currency converter
Data input: Provide your workflow with a text or file-based input
Date transformation: Change date from one format to another
Discord: Get notifications in Discord
Discover Tech Stack
Discover WHOIS
Discover profile: Discover contact details and social media profiles
Email Address Validation
Emails scraper
Extract domain from URL
Extract links from a page
Files & Documents finder
Files compressor
Combine several files into a single zipped folder
Find & Replace: Dynamically append, prepend or replace data from a spreadsheet
Get page content
Get word count
Google Sheets (Export / Sync)
Google Sheets Import
Grammar & spelling page audit
Image converter
Keyword finder: Check the page for a keyword
Mathematical operations: Perform basic arithmetic operations
Measurement units converter: Convert one measurement unit to another
Numbers transformation: Change numbers from one format to another
Phone number scraper: Extract phone numbers from pages
Pull contacts: Pull contact information found on the page
RSS feed extractor: Returns structured summary of a RSS feed
Regex: Extract information from any text by searching for a specific search pattern
Remove duplicates from spreadsheet: Remove duplicates from the spreadsheet
SEO meta tags: Extract meta tags from any given URL
Schema scraper: Extract the schema structured data of any page
Screenshot capture: Capture a full web page screenshot from a URL
Sitemap extractor: Extract all URLs from the sitemap
Slack: Get notifications in Slack
Social links scraper: Extract social media profile links from any URL
Telegram: Get notifications in Telegram
Text transformation: Change text from one format to another
URL status checker: Check the status of any URL
Video links extractor: Detects and extracts video links found on the page
Webhooks: Send data to any application via webhooks
XML sitemap generator: Generate one XML sitemap from all inputted URLs
Crowdsourced automations
Human-powered data collection: Ask a human assistant any question
Yes / No human qualification: Ask a human assistant a yes/no question
---
Hexomatic Workflow Library
You can use Ready-made workflow or Design your own combining scraping or automations to make autopilot.
Perform a site-wide accessibility audit
Audit a list of pages for accessibility issues
Audit businesses ranking on Google for accessibility issues
Research backlink partners & contact details via list
Crawl your website & create an XML sitemap
Discover email addresses for a list of websites
Research backlink partners & contact details via keyword
Find all the pages that link to the top ranking websites
Find all the pages that link to your competitors
Find domains linking to the top ranking sites for a keyword
Find domains that link to your competitors
Find resources page SEO opportunities
Extract meta tags for a list of URLS
Discover tech stack for a list of websites
Find B2B leads from Google Maps
Check pages and create screenshots as mobile devices
Competitor research from a list of domains
Find email addresses and contact details for any domain in bulk
Check competitors competing for Amazon listings
Transcribe images in bulk
Website SEO spelling and grammar audit
Website broken links audit
Crawl a website and generate an xml sitemap
Verify a list of email addresses
Find SEO backlink partners
Find Bloggers or Influencers
Quick Guide How To Create Workflow on Hexomatic
Right side toolbar
Select the automation or Scraping recipes
Add them to workflow
Click Continue
Run Now Or Schedule
---
Hexomatic Integrations Option
Google
Discord
Telegram
Slack
Google Sheet
Webhook
API
Hexomatic Road Map: Future Innovation
To learn more visit their road map: Hexomatic Roadmap
Conclusion
Hexomatic is a great tool for extracting information from webpages. It can be used to pull data from a webpage to create a report that can be shared with clients or colleagues. You can also use it to build a website by pulling data from websites and adding it to a page. The best part is that Hexomatic doesn't require any coding knowledge to build your own custom reports and websites.
You can use readymade automations and a team of human assistants to delegate and scale tasks with the help of Hexomatic. automate your daily tasks and save time.
Get Hexomatic Lifetime Deal Today!
FAQ's
Can Hexomatic Scrape Data from Password-Restricted Pages?
Yes, They have the ability to login as part of the scraping automation.
Can I use Hexomatic to perform Social media automations?
You can use it for scraps but It's not designed to perform automated following, liking, connection requests.
What is the difference between Hexomatic and app integration automation platforms?
Automation:  Hexomatic allows you to create custom website scraping recipes or use their ready-made template.  App integration:You can connect with Zapier, Pabbly Connect, Integrately and Syncspider.
Which websites can I scrape using Hexomatic?
Hexomatic features a built in website scraper that you can program to extract text, numbers or images at scale with pagination support. Some websites employ more advanced countermeasures which may block our requests. craping engine comes with built-in rotating IP's that helps prevent this. (source: Hexomatic)
What is the difference between Hexomatic and Hexowatch?
Hexowatch is a change monitoring platform that can alert you when visual, content, keyword, source code, price, availability and backlink changes are detected. Hexomatic is a work automation platform that enables you to capture data, run automations and leverage 3rd party services.
Hexomatic In-Depth Review
Resource For Hexomatic Tool